| | | | |
| --- | --- | --- | --- |
| | AYA Newsletter | February 2018 | |
THIS MONTH
Check out our great students arriving in 2018! New profiles posted daily!
Learn About Our Future Leaders Exchange (FLEX) Program
Reflecting and Goal-Setting: AYA Students at Mid-Year Orientation
AYA Alumni Letters: Giuliana from Brazil
Contact Julia at (800) 322-4678 or email her at julia@aifs.org to learn more about Academic Year in America.
Ask us about our short-term Welcome Program!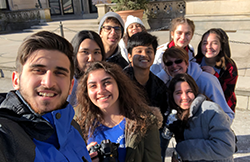 Check out our great students arriving in August! New profiles posted daily!
Welcome an international high school student into your home this fall! AYA is currently accepting host family applications for the 2018/19 academic year.
Choosing a student now has many benefits:
Start building a relationship with your student early on
Get students enrolled in school before slots fill up
Have something to look forward to all year!
Log in to view available students arriving this August for our fall semester!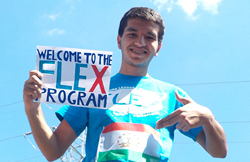 Learn About Our Future Leaders Exchange (FLEX) Program
The FLEX Program (Future Leaders Exchange) is funded by Congress and administered by the Department of State's Bureau of Educational and Cultural Affairs. The program's goal is to provide an opportunity for high school students from Europe and Eurasia to experience life in the United States to promote mutual understanding.
FLEX students live with host families, attend school, engage in activities to learn about American society and values and help educate Americans about their countries and cultures. The program places special emphasis on leadership skills and seeks ways for participants to develop these skills during the school year.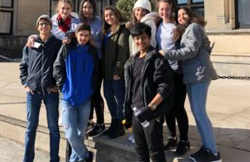 Reflecting and Goal-Setting:
AYA Students at Mid-Year Orientation
Government sponsored students are required to participate in a Mid-Year Orientation and AYA is pleased to be able to offer our students the opportunity to attend a group orientation. The AYA Mid-Year Orientation provides invaluable cultural education and student support during the midpoint of the student's program by incorporating educational lessons, exercises and workshops in a great team atmosphere and an incredible setting.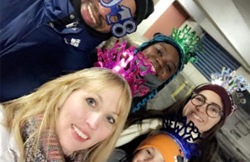 AYA Alumni Letters: Giuliana from Brazil
Several of the 2016-2017 AYA students took some time to write letters to our 2017-2018 high school exchange students. They wrote about their reflections, advice and best wishes to help this year's group make the most of their exchange experience. The messages in these letters are valuable—to all participants in Academic Year in America programs. Host families and Local Coordinators can read these letters to understand the student's perspective, and they can share these letters with upcoming students to help them get prepared.

1 High Ridge Park, Stamford, CT 06905 | 800-322-4678 |
Academic Year in America is a program of the AIFS Foundation, an independent, not-for-profit, 501(c)(3) tax exempt public charity. All contents copyright © 2016 AIFS Foundation.